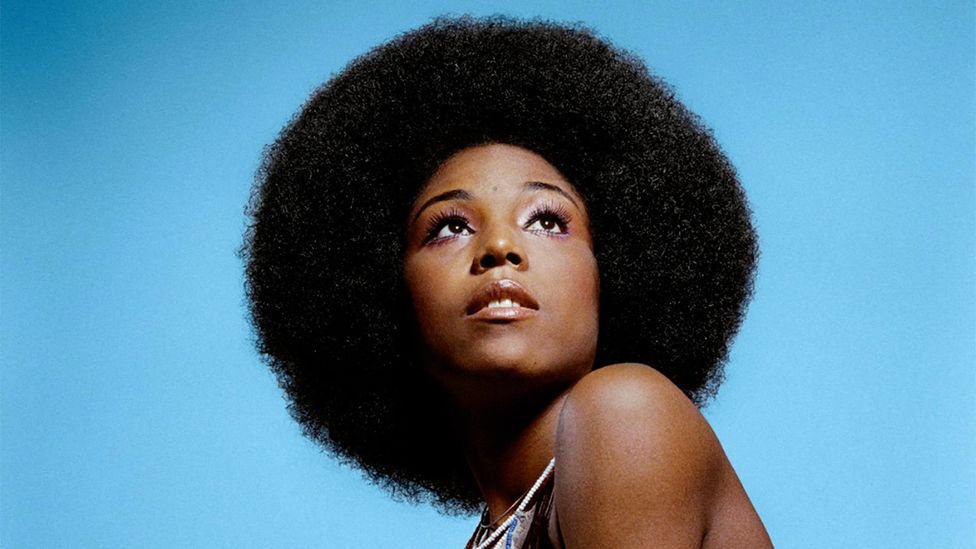 How a photographer, a group of models and a fashion show in Harlem kick-started a cultural and political movement that still inspires today.
On 28 January 1962, a large crowd formed outside Purple Manor, a nightclub in the Harlem neighbourhood of New York City. A fashion show was taking place – an event that proved so popular it had to be held for a second time that same night – which sparked a movement that would change the way black people were represented forever.
The show, titled Naturally '62, was organised by the African Jazz-Art Society & Studios (AJASS), a group of creatives, including photographer Kwame Brathwaite – now aged 82 – and his brother Elombe Brath (who died in 2014). It featured black women who had chosen to move away from Western beauty standards: the models who walked down the catwalk that night wore their afro hair with pride; their clothes were inspired by designs from Lagos, Accra and Nairobi; and their skin was darker and their bodies fuller-figured than the women pictured in fashion magazines, including black publications. "There was lots of controversy because we were protesting how, in Ebony magazine, you couldn't find an ebony girl," Brathwaite told Tanisha Ford, the author of Liberated Threads: Black Women, Style, and the Global Politics of Soul in Aperture magazine.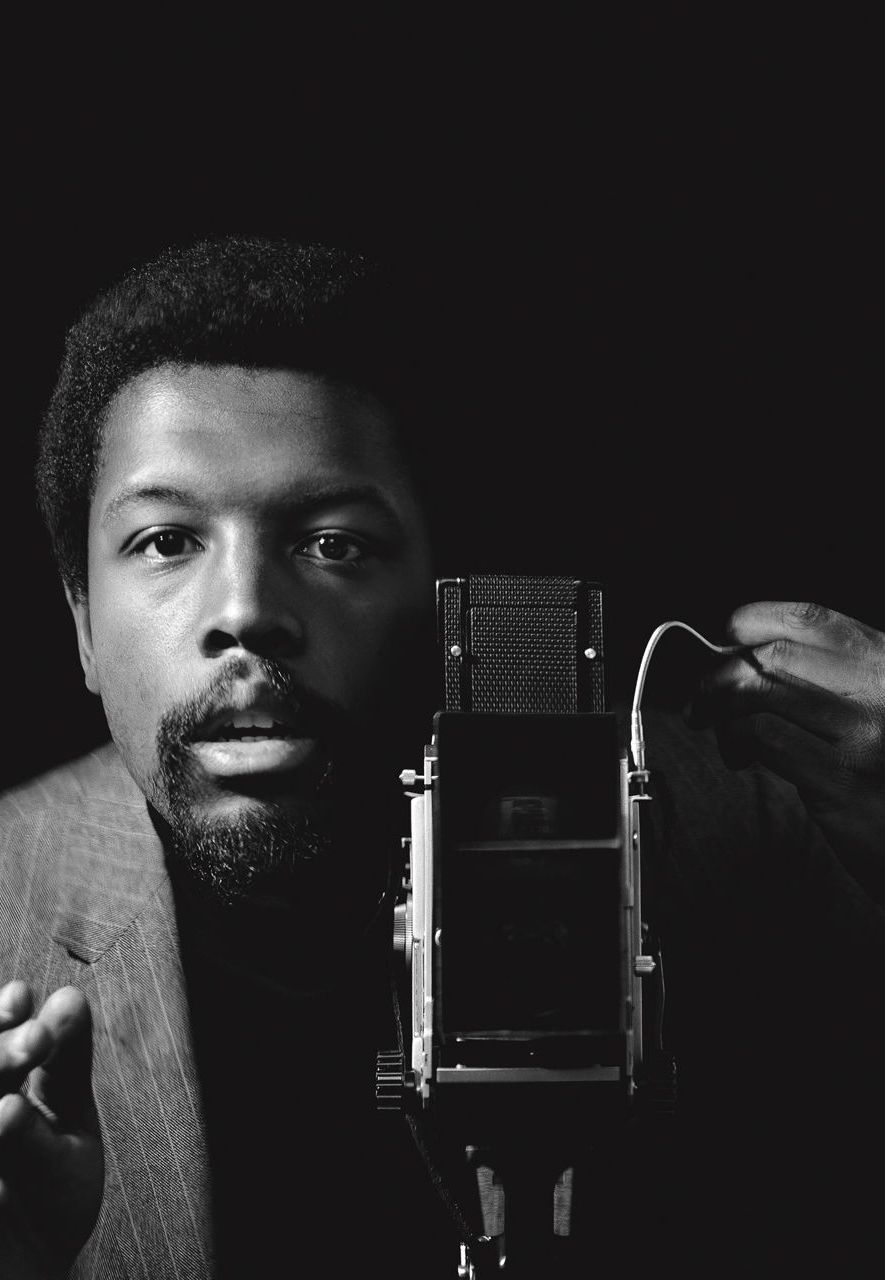 A self-portrait of Kwame Brathwaite, 1964, who was at the vanguard of the Black is Beautiful movement (Credit: Courtesy of the artist and Philip Martin Gallery, LA)
These women were known as the Grandassa Models (taken from the term 'Grandassaland', used to refer to Africa by Black Nationalist Carlos Cooks, whose teachings Kwame and his group followed). The fashion show was about more than just appearances however – it kick-started the Black is Beautiful movement that spanned the 1960s and '70s. And it is now the name of a touring exhibition of Brathwaite's work, currently on display at Columbia Museum of Art in South Carolina.
The first Grandassa Models were also followers of Marcus Garvey's ideology
At the time, Brathwaite was known as the 'Keeper of Images'. His numerous photographs showed young black people coming of age. "He always had his camera, snapping shots of everything that happened," Ford tells BBC Culture. "If you're constantly taking pictures, think about the archival photos you amass by the end of a year, five years or even 10 years."
This portrait of the photographer's wife, Sikolo Brathwaite, is displayed at the Black is Beautiful exhibition (Credit: Courtesy of the artist and Philip Martin Gallery, LA)
Throughout the 1950s, '60s and '70s, Brathwaite photographed many famous black musicians, including Stevie Wonder and Bob Marley, as well as the Grandassa Models at numerous events. It was these photographs that propelled the movement into the mainstream – and that help us to understand now what was happening then.
The bigger message
For Brathwaite and his friends, style was always used to relay a bigger message. Those involved in the Black is Beautiful movement wanted black women and men to feel empowered both inside and out, and listened to the teachings of Marcus Garvey. Garvey, whose ideas were kept alive by Cook, was an early-20th Century political activist who advocated black liberation through economic self-reliance. The original eight models who were chosen to be the first Grandassa Models were also followers of his ideology. "They were women in the community. They'd been a part of the African Nationalist Pioneer Movement (ANPM). They were writers, stylists, educators who embraced the ideas of Garveyism from the beginning," says Brathwaite's son Kwame Brathwaite Jr, who has been archiving his father's images for six years.
The Grandassa Models, New York, 1967, photographed by Kwame Brathwaite (Credit: Courtesy of the artist and Philip Martin Gallery, LA)
"It was empowerment. It was about self-sufficiency and supporting your community," he continues, pointing out that money spent in the black community in the US didn't stay in it for long. "In the book, there are images where a sign saying 'buy black' is in the background. That was part of the lexicon of what they were teaching." Black was also a progressive term at the time, as 'coloured' and 'negro' were still widely used to refer to African-Americans.
In 1956, at the age of around 18 or 19, Kwame had formed AJASS with his brother and other graduates from the School of Industrial Art in Manhattan (now the High School of Art and Design) where they both went. The group was a space for jazz enthusiasts to play, share and talk about music. They would often put on shows at Club 845 in the Bronx. And it was after being inspired by a collection of photographs by a member of his group that Kwame decided to start photographing the shows himself, using cameras he borrowed from his uncle.
The new black vanguard is a global movement of young black photographers – Antwaun Sargent
"Jazz was the African-American music that was formulated back then. It was what hip-hop was to my generation: music of rebellion," says Kwame Jr. "This was at the beginning of the civil rights movement. And this was as they were starting to discover who they were going to be as individuals."
The worldwide Black Lives Matter protests after the murders of Ahmaud Arbery, Breonna Taylor, and George Floyd in the US inspired Kwame Jr to create a multimedia experience in collaboration with musicians Marcus Gilmore, Nicholas Payton and Marc Bamuthi Joseph, using Brathwaite's photography. Together with executive producer Brandon Baker, they have created the song "We Will Breathe" to be released this week, turning the commonly used "I can't breathe" mantra on its head in a bid to empower black people to take back control of the narrative surrounding their lives.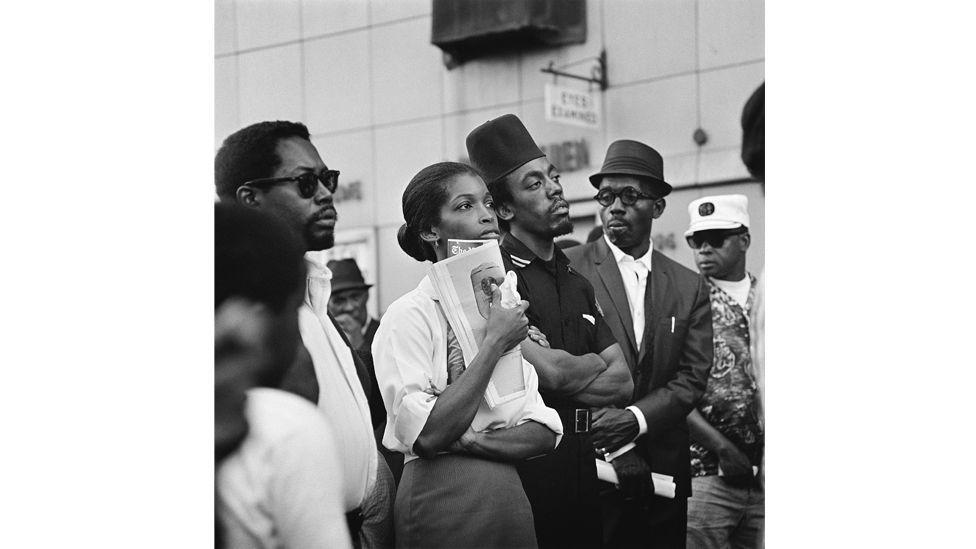 Marcus Garvey Day parade, Harlem, 1967, by Kwame Brathwaite (Credit: Courtesy of the artist and Philip Martin Gallery, LA)
For AJASS, it was Garvey's teachings that influenced them to also focus on beauty standards. The 17th of August each year is still known as Marcus Garvey Day, and in Harlem at the time, a 'Miss Natural Standard of Beauty Contest' was held to commemorate this. While competitors had to wear their hair naturally to take part, members of AJASS noticed that the winners would often return to straightening their hair once the competition was over, because they had to in order to go back to work. As a group, they felt they needed to do something to change the relationship between black people and their hair, which is how the Grandassa Models, who willingly kept their hair natural year round, were formed.
And, as more Naturally events occurred, and the more musicians such as Nina Simone were seen with similar looks, the more afros were normalised. But, it didn't come without struggle. "Black women who made the choice to be natural in the late '50s, early '60s, definitely suffered all kinds of ridicule and rejection," says Ford, noting that black beauticians would refuse to style afro hair. "A lot of those women had to either go to black men's barbers or women like Black Rose, who was a member of the Grandassa Models, [and] had to learn how to barber hair on their own." It wasn't until the market grew significantly that beauticians began to educate themselves on natural hair and to create related hair products to sell.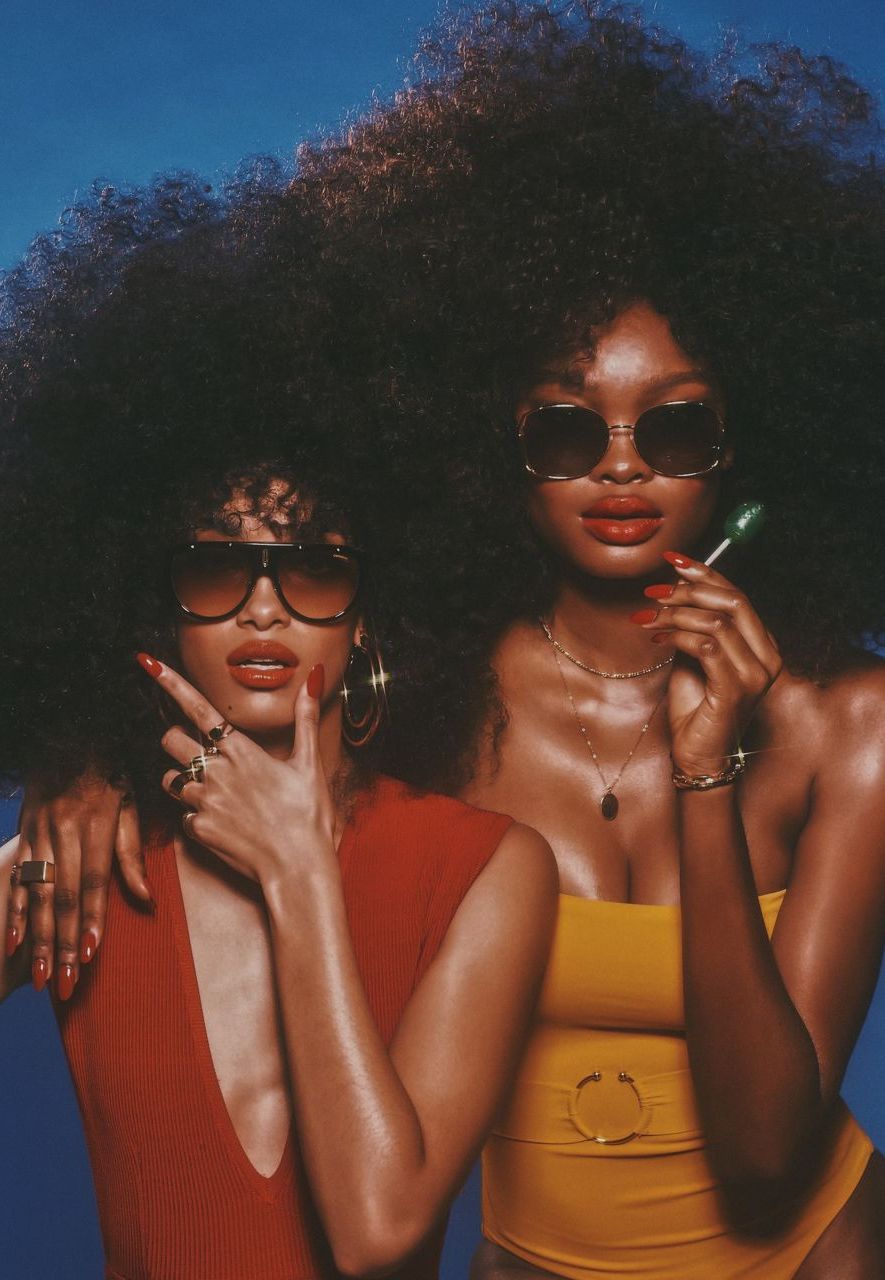 The work of contemporary photographer Adrienne Raquel is featured in the book The New Black Vanguard (Credit: Adrienne Raquel)
Today, black beauty and style is still extensively explored by black photographers, as made clear by the recent book The New Black Vanguard, which highlights 15 emerging and established contemporary black photographers in fashion who are striving to make the industry more inclusive. "The new black vanguard is a global movement of young black photographers who are working between the spaces of art and fashion to make the images that they want to be seen in the world," author of the book Antwaun Sargent tells BBC Culture. "One of the defining characteristics is that these photographers don't necessarily care about the neat genre separations that have dominated the history of photography, and the garments become an opportunity to create and express not only identity, but a positionality."
New York-based photographer Adrienne Raquel, whose beautiful images feature in the book, agrees, adding that it's important for black photographers to be the ones taking photos of black people. "I think black photographers photograph other black people with attention and care. We understand each other's stories, and how people would like to be represented or depicted."
And black entrepreneurs also continue to be inspired by the Black is Beautiful movement. Last year, Rihanna cited Kwame as an inspiration for the first collection of her luxury brand Fenty. She marked the occasion by sharing a photograph on Instagram by Brathwaite of the Grandassa Models at the Renaissance Casino Ballroom in Harlem on Garvey Day in 1968, where a 'buy black' sign can be seen in the background. "When I was coming up with the concept for this release, we were just digging and digging and we came up with these images – they made me feel they were relevant to what we are doing right now," Rihanna told Vogue.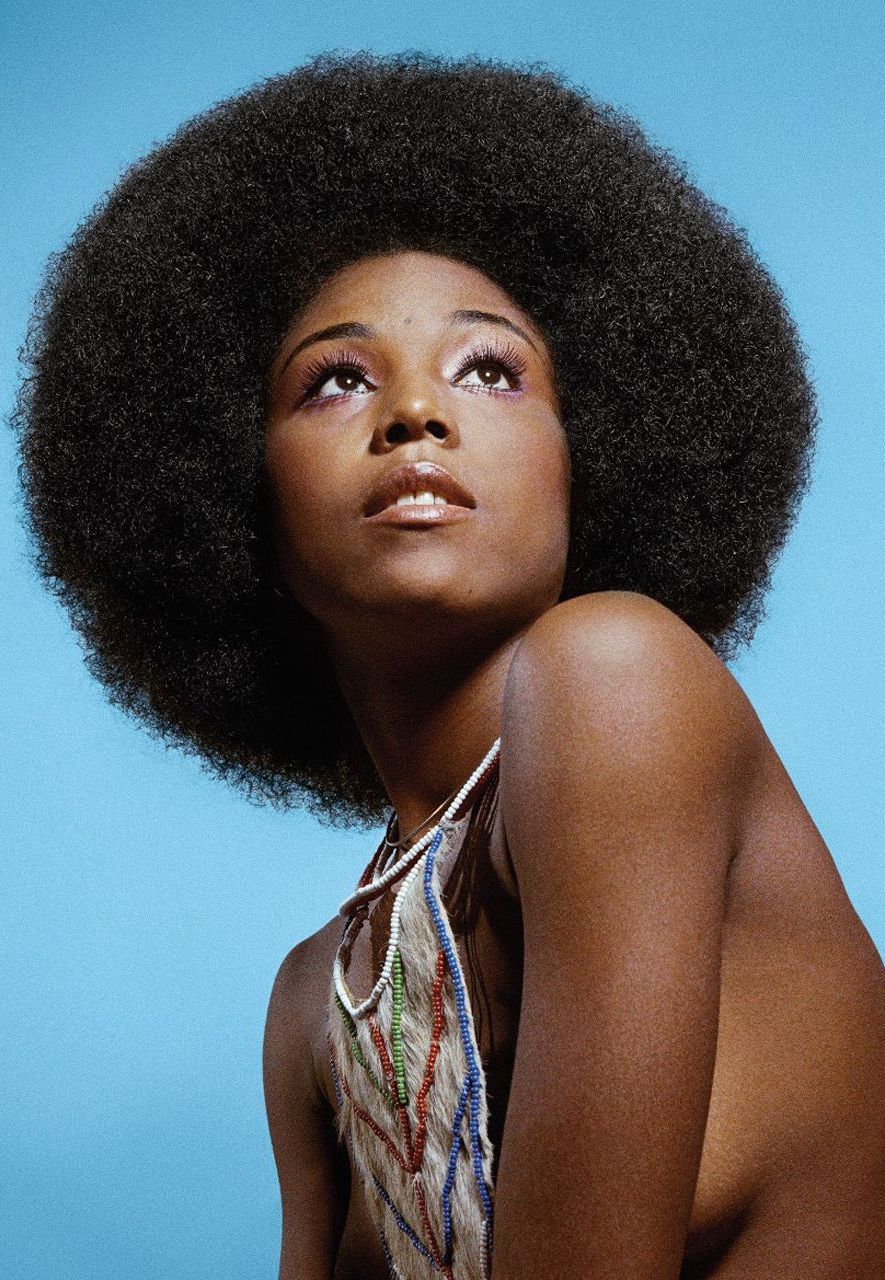 The touring exhibition Kwame Brathwaite: Black is Beautiful tells the story of the movement (Credit: Courtesy of the artist and Philip Martin Gallery, LA)
Brathwaite's images have inspired many to see and photograph themselves free from Western expectations. And Kwame Jr believes his father's work will continue to inspire people, joking that he is of course biased, but that his encounters and the stories he has been told make it hard to think otherwise. "I did a talk at a local high school in LA three years ago, and a woman came up to me and said, 'I want you to tell your father, thank you, because, I was 12 years old when I heard of him, and up until that point, I never considered myself beautiful.'"