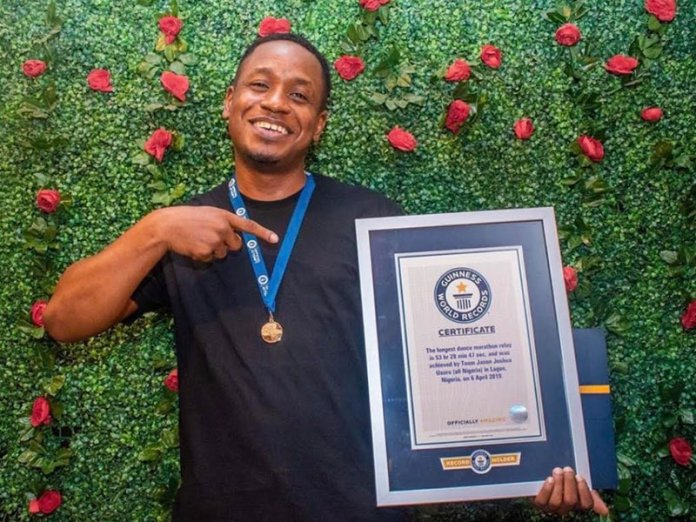 After a previous failed attempt, Jason Usoro, a Nigerian dancer, singer and IT guru, emerged the Guinness World Record Longest Dance Marathon title holder on April 6, 2019 after dancing for 53 hours, 28 minutes and 47 seconds. In this interview with Ayodeji Ake, the dancer who revealed how he relentlessly worked towards this feat, also shared mapped strategies to grow the entertainment industry
How do you think the government can invest in entrainment projects?
Government can invest in entertainment project through hosting events where artistes can be paid (both established and upcoming), establish entertainment grant projects, long term loans institutions, training and funding institutions. Entertainment Grants would go a very long way especially for entertainers who have proven themselves and just need funds to boost.
You recently got certified at the Guinness World Longest Dance Marathon Relay, what were the challenges?
Yes I did and I'm glad I've been recognised. It wasn't an easy feat but it was worth it. We faced challenges like we needed 24 hours power supply to pull it off and good internet to upload documents but due to the poor functions of these sectors it cost more funds and a lot of time. The record attempt took place at Novare Mall Lekki, Lagos, and this helped a lot because they provided 24hours supply of electricity.
As the Guinness World Record Marathon Dancer, how do you feel?
I've always dreamt of this as a kid. Seeing the likes of Kaffy break a record when I was in senior secondary two made me feel I could do it too and I'm super excited I am officially a Guinness World Record Holder. I feel amazing. I had my first attempt in 2017 but didn't pull it off due to some errors made. Having to attempt it again and break it and be recognised as a world record holder is overwhelming. Dreams come true.
How has it been combining singing and dancing, and which is your favourite?
I started dancing at the age of five, then singing followed. So I've developed and been trained to sing and dance. Watching and learning from James Brown, Michael Jackson, Usher, Omarion ,Giniuwine, Beyoncé, Ciara, Psquare (now defunct), Neyo and Chris Brown who are masters of the craft. I watched them perform and practice all these years. I have mastered the craft and still learning a lot. I love both but you can wake me up now and ask me to dance and I'll do justice.
How do you strike the balance being a singer, dancer, and at the same time an entrepreneur?
It's not an easy task, sometimes it's very tiring but over the years I've learnt balance. I've been in business for about 14years- I started at the age of 13years. I've learnt balance by knowing I can't do it all on my own so I work with teams. Delegation of roles while I focus on growth worked. I discovered I had a gift in business through entertainment, I always wanted to be a dance artiste but money is needed for that, due to how I was brought up I believe working on yourself would save you a lot of disappointments, so I knew I had to work my way to sponsor my dreams and that's what I've been doing all along. It's not easy but the end result is fulfilling. I've had my ups and downs too but most importantly it's to learn and grow. Most important factor for the balance is time management and planning. To me, I just see myself into business and entertainment.
Opting out of academic career for entertainment despite being graduate, were your parents pleased?
(Laughs) I didn't involve them in a while. It was when I went mainstream into music they figured out, although they have been supportive. I'm still chasing my academic career too, studied Management Information Systems in Covenant University, now I'm running My IT (Information Technology) Business.
What are those things people doesn't know about Usoro?
I am a Christian. I love to study, meditate, develop and grow ideas and for leisure, I love swimming, seeing movies and playing video games. I am also an entrepreneur. I run an IT company Blueportal , we develop web, mobile and desktop apps and a also fashion brand on the side- Studz n Buckles.
How can you rate the Nigerian entertainment industry, and apart from the government investing in entertainment projects, what others things to be done?
I can rate the Nigerian entertainment industry six over 10. So far the industry growth has been interesting although lacks structure and I see that coming to place very soon. Other aspect the government should invest in is technology, it's very important for the development of our county. We have more unemployed graduates now than illiterates, let government create more opportunities for its youth through development of new industries.
Which structure do you think the industry can adopt?
First government should give value to enforcing laws as a whole as a country. Entertainment agencies should be created and have laws enforced, funds provided and partnerships with foreign copyright agencies brought into Nigeria and labels who have built structures. Also build Entertainment Schools were the business of entertainment is taught so entertainers are trained and empowered.
How do you give back to the society?
I give back everyday of my life. Paying fees, charity and providing opportunities and consultations for up-comers in both entertainment and business. It's a privilege to be able to give back.
Now you are in the limelight, how will you manage your increasing fans to avoid scandals? (Laughs) I'll just keep being myself.
Tell us, were you born with silverspoon in your mouth, how was growing up like for you?
A big question! Yes I was born with a silver spoon but was trained not to feel entitled to it but find my own silver spoon. I've worked a lot, done a lot. Here I am.
Tell us the story behind finding for yourself a silver spoon?
Like I said previously, I've been in business since I was 13, I've done a lot of businesses-fashion, supplies, food, transport, electronics, entertainment, IT, furniture, event planning, marketing and so on. Tried my hands on so many things over the years and they all opened my eyes to life. Learnt so much and gained a lot of experience in different fields. I study a lot from the great business men and women. My mum was my first business mentor, she made me love business. She taught me a lot and supported me, then my step dad, a manufacturer and real estate investor broke down production to me and taught me a lot about business, influence and life. I followed up on the likes of Dangote, Adenuga , Otedola , Walton family , Amancio Ortega, Bill Gates , read about great companies that have stood the test of time and so many others who over the years have created impact not just wealth.
I learnt a lot also from the school I went to- Covenant University under the wings of Bishop David Oyedepo. So, at a young age I gained a lot of experience. Read a lot of books, studied and researched. I realised knowledge is truly power. I made my first millions immediately after my NYSC, I sold Hoverboards(electric scooter). I knew it was a big trend and tapped into it. I invested in entertainment, I made mistakes and I got broke. I was trying to blow overnight. It was a huge struggle but I started all over again from the scratch with nothing.
Attempted my first world record and had to make a hard decision to stop due to errors made, thought it was going to be my breakthrough. Kicked off my fashion business and founded my IT company Blueportal and in less than a year, turned it into a multimillion naira company, then went back again to attempt a new world record and I broke it and I am officially a Guinness World Record Holder. I haven't yet started; I'm still learning and warming up. No harm in having a diamond spoon, right?