Tiger Woods shot his lowest opening round in a major since 2012 with a two-under-par 68 at the US PGA Championship in San Francisco.
The 15-time major winner played alongside Northern Ireland's Rory McIlroy, who finished level par at the year's first major at TPC Harding Park.
They sit one behind joint leaders Jason Day and Brendon Todd.
Tom Lewis is two shots off the lead, with fellow Englishman Paul Casey – who made a double-bogey six on the 18th – and Ireland's Open winner Shane Lowry a shot further back.
A bogey on the last hole saw England's Tommy Fleetwood finish level par while new world number one Justin Thomas, who played with Woods and McIlroy, opened with a one-over 71.
The 102nd US PGA was put back from May because of the coronavirus pandemic and is being played with no spectators.
Woods back on familiar ground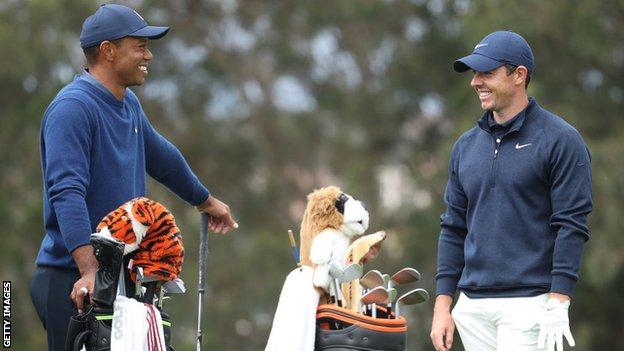 After ending his 11-year wait for a major win in 2019, a back injury and the pandemic meant Woods spent five months out in 2020.
In his first event after the lockdown, the 44-year-old American tied for 40th at the Memorial Tournament last month, but he said on Tuesday he is enthusiastic about the changes he has made to his game while playing at home.
Chasing a record-equalling fifth US PGA win, he is back on familiar territory having played often at Harding Park as a junior and at Stanford University.
Woods has won both the professional events he has played there – the WGC-American Express Championship in 2005 and as part of the USA team during the 2009 Presidents Cup.
The most obvious change for Woods was that he had switched to a longer putter, and he said later: "I've been messing around with this putter for the better part of over a year.
"It's difficult for me to bend over at times and most of the guys on the Champions Tour have gone to longer putters as they have gotten older."
Starting on the par-five 10th, he made a birdie before claiming another on the 13th.
They were cancelled out by bogeys either side of the turn but Woods birdied three out of four holes on the back nine to complete a solid start.
Bulked-up DeChambeau breaks 'the Kraken'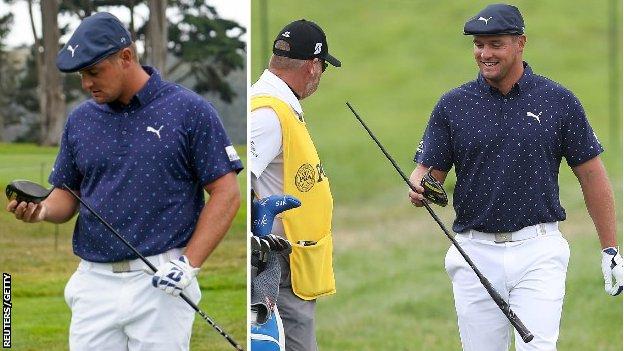 There was little doubt who Koepka was referring to when, after his round, he told Sky Sports: "There's no reason to be scientific with all the numbers and stuff like that, just go out and go play."
A physics major in college, DeChambeau has been dubbed 'The Scientist' for trying to find innovative ways of making his game more efficient. His latest experiment has seen him pile on more than three stones in nine months – almost half of that during the lockdown.
With an average of 313.5 yards, Woods was the driving leader went he went into the clubhouse. That changed once fellow American DeChambeau started his round.
The 26-year-old is the biggest hitter on the tour this year and since the lockdown he's comfortably out-driven his rivals, averaging 350.6 yards when winning the Rocket Mortgage Classic last month.
He averaged 315.5 yards on Thursday but there was a moment of panic when he broke his driver, which he calls 'the Kraken', after teeing off on the seventh hole. Replays showed that the base of the shaft broke as DeChambeau leaned on his driver while picking up his tee.
"That was weird," he told the course marshal as a friend fetched a replacement shaft. "It's all those swings I put in."
However, DeChambeau showed that his game is about poise as well as power, with some excellent putting helping him to four under after 10 holes.
The momentum didn't last however – he had three bogeys on the next five holes to finish with a two-under 68. But he vowed to continue "hitting it as straight and as far as I can" as he bids to win his first major.
'It was there for the taking' – what they said
Jason Day is still looking for his second major triumph after winning this event back in 2015, and the 32-year-old Australian came in off the back of three top-10 finishes after missing the cut at the Rocket Mortgage Classic.
"I finally had enough of feeling sorry for myself," he said. "Sometimes you've just got to pull your pants up and just move on, you know?
"I feel like the momentum that I've had over the last three starts has kind of seeped into this week. I've been working very hard in the off-weeks to get my putting back to where it is. I feel like the game and the confidence is slowly coming around."
Tiger Woods: "This golf course is all about hitting fairways. You get a ball in the rough, into the grain, there's no chance you can get the ball to the green.
"I felt like I did a decent job of doing that, and the golf course is only going to get more difficult as the week goes on."
Rory McIlroy: "I need to hit a few more fairways tomorrow [Friday] to try to attack some pins and not leave myself four and five-footers for par all day.
"But the course was there for the taking today – Jason Day shot five under and there have been a few four unders. I feel like I could have been a few shots lower but I grounded it out. With how I hit it on the back nine, even par actually wasn't too bad."